Complete Meal Balancing Booster | JOINT
100% Human Grade Whole Foods
Australian Made + Sourced
Scientifically formulated. Naturally potent.
Pawfect as a functional meal topper
Boost their joint health in each meal with the addition of our proprietary blend of 100% human grade, real whole food organic ingredients.

Our whole food blend is packed with the goodness of joint-strengthening, nourishing and soothing ingredients – inflammation fighting high curcumin Turmeric and Devil's Claw and Rosehip Powder, known for their anti-inflammatory properties, and joint supporting Sea Kelp, Kale and Reishi Mushrooms.

Our JOINT Whole Food Balancing Booster is designed as the perfect addition to our Freeze Dried Daily Dog food, as well as giving commercial and homemade dog or cat food diets a natural joint supporting boost. It's a cat and dog food supplement with a difference – using only natural, human grade ingredients, that are well researched to support improved joint health and those that assist with the easing of symptoms from arthritic conditions.
Ideal for dogs of all ages. Can be used as a preventative

Promotes joint mobility and reduces stiffness

Anti-inflammatory ingredients

Our whole food ingredients may assist with reducing pain and inflammation associated with arthritic conditions

100% human grade ingredients made in HACCP human grade facility

100% organic ingredients. No synthetics
100% Human Grade Ingredients:

Tumeric
Chia Seeds
Devil's Claw
Rosehip Powder
Tasmanian Sea Kelp
Reishi Mushroom
Kale Powder (organic)

Feeding Guide

As a meal topper:
Sprinkle over wet food or mix with a little warm water into a paste and form into moulds. To feed on dry food, mix with a small amount of oil and drizzle over.

Note: Turmeric is a natural dye and may stain fur, clothing & utensils.

Dosage

| | |
| --- | --- |
| Dogs <5kg: 1-2g/day | Dogs 5-15kg: 3g/day |
| Dogs 15-25kg:4g/day | Dogs 25kg+: 4g-6g/day |
| | |

 

Store in a cool, dry and dark place. Product may clump when exposed to moisture. Ensure a clean, dry spoon is used and secure cap after each use. Do not display in direct sunlight.
View full details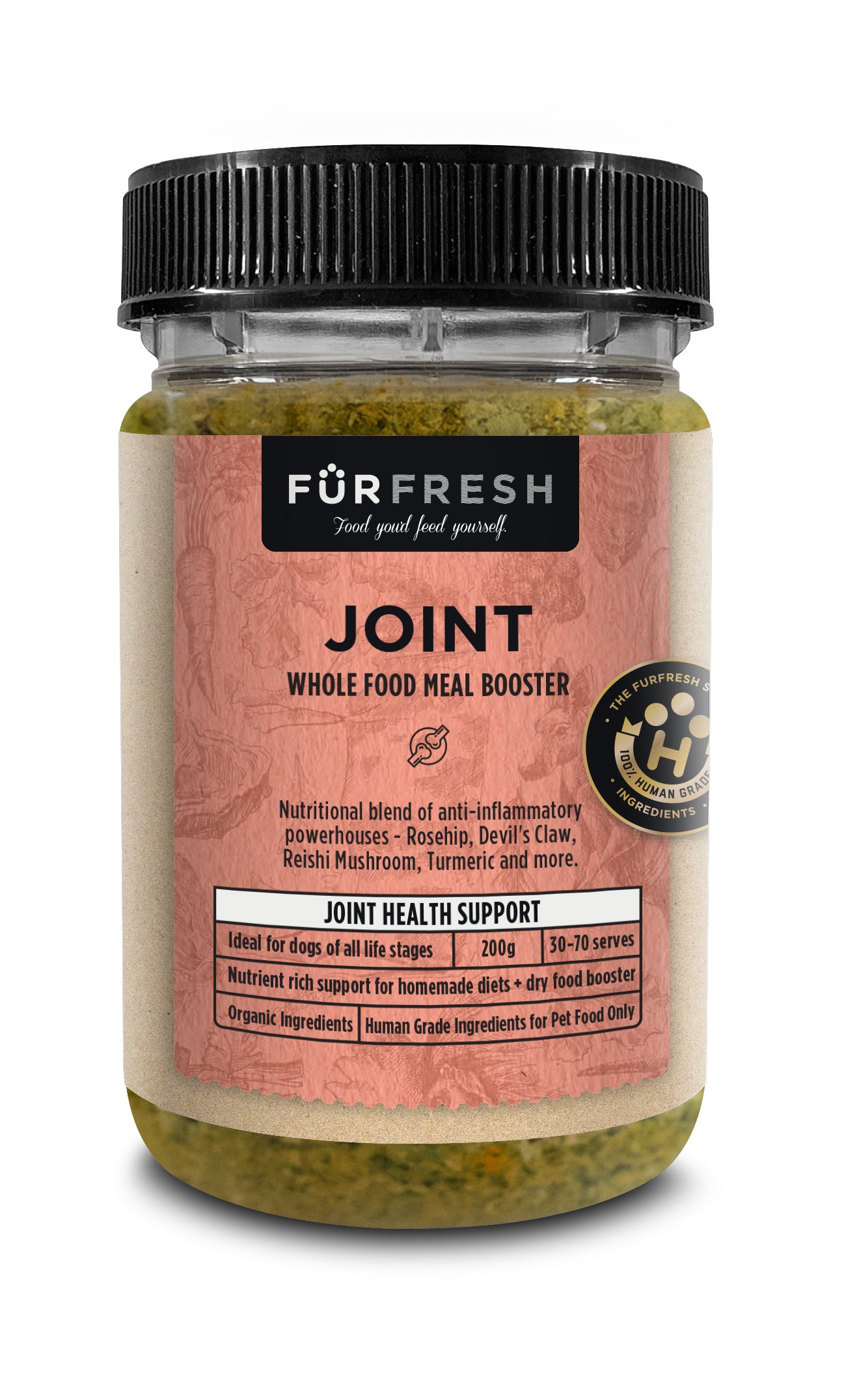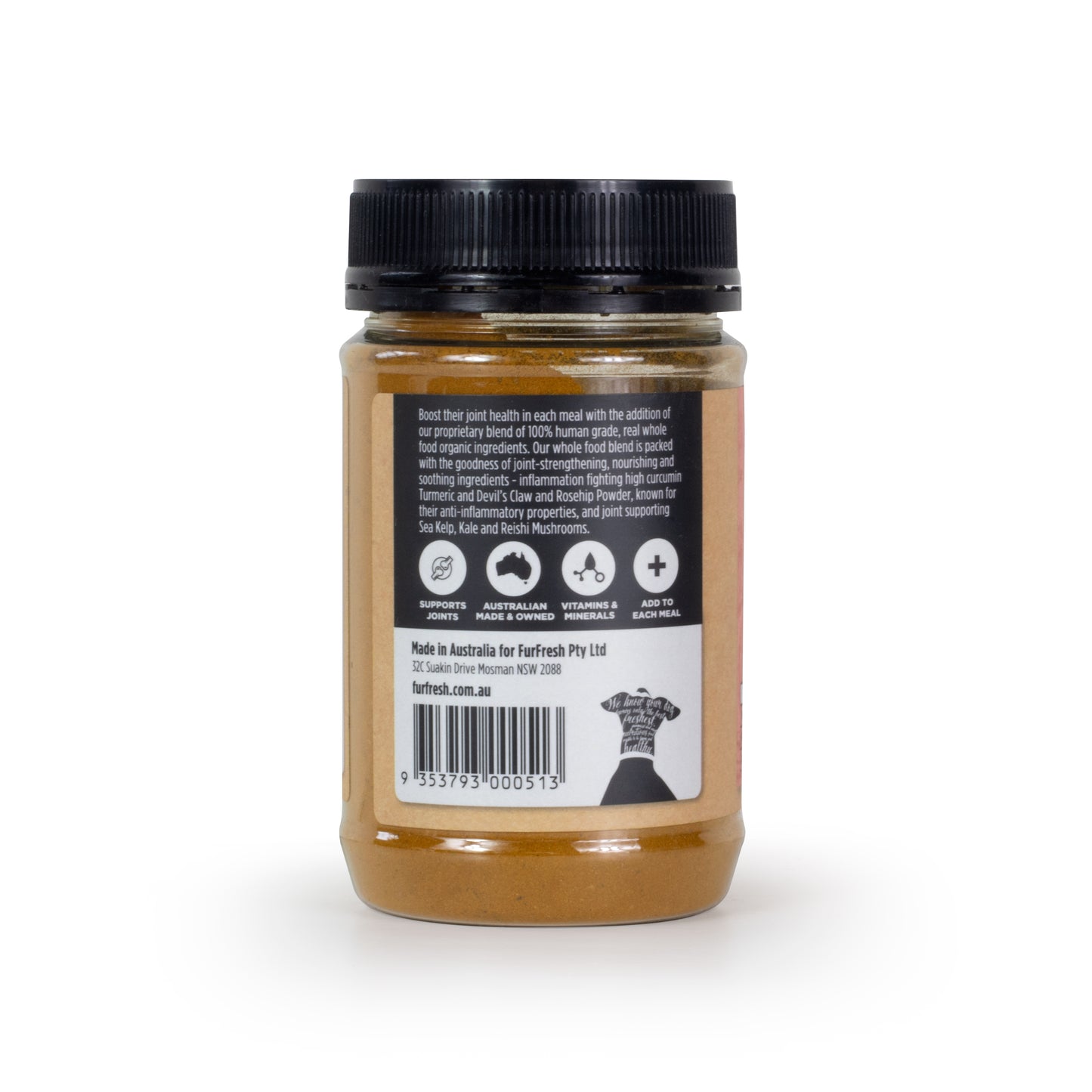 How we're freshening up the pet food industry
How we're freshening up the pet food industry
100% HUMAN GRADE INGREDIENTS
Not animal feed grade.
NO MYSTERY MEAT
No meat meals, animal by-products or other mysterious 'meat-like' ingredients.
NO PRESERVATIVES
No artificial colours, flavours or preservatives.
NO FILLERS
No grains, corn, wheat, soy, cereals or other sneaky tricks to keep costs down.
INGREDIENTS MINIMALLY PROCESSED
Simple, wholesome ingredients minimally processed.
TRANSPARENT LABELLING
We include the full ingredient list on all our packs.
Refreshingly Different Dog Food
Since 2015, we've been on a mission to deliver the fureshest dog food in Australia, and if we may be so bold, the world!
We are obsessive about using only the highest quality, freshest and healthiest ingredients for our 100% human grade dog food.
From Our Purrfect Pawrents