Australian Kangaroo + Kumara Freeze Dried Daily Dog Food
Our much-loved Australian made freeze dried daily dog food range has a new addition. Our new complete and balanced single protein recipe is packed with nutritious whole food Kangaroo meat, prebiotic Kumara (sweet potato), carrots, spinach and more.
How to order
Australia's Fureshest Dog Food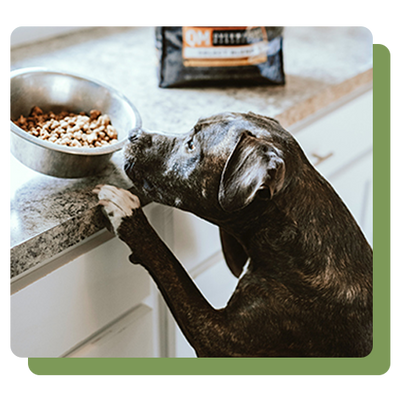 1. Customise Your Plan
Tell us about your dog and we'll customise a FurFresh raw dog food meal plan that's perfect for optimal health.
2. Receive Your Box
You'll receive a box with the right amount of food for your dog until your next box arrives.
3. Feed Your Dog In Seconds
Once defrosted, your dog's meals are ready to eat straight from the fridge, no cooking required!
A mission to deliver you the fureshest pet food in Australia and, if we may be so bold, the world! We are obsessive about using only the highest quality, freshest and healthiest ingredients that are almost entirely Australian grown. Want to know more? Check out our FurFresh formulation standard.
Our Testimonials
From Our Purrfect Pawrents

"She is very fussy... but she loved this!"
"I received a sample pack for my Border Collie. She is very fussy with her food and often turns her nose up at what we cook for her, but she loved this. Thank you!"

"My puppy loves them!"
"I recently purchased the trial pack and my puppy loves them! I'm slowly introducing them into her food and her tummy seems great!"

"Full of energy!"
"Ned has been enjoying his FurFresh dinners! He is glossy and full of energy!"
Loved by THOUSANDS of furmilies around the world
Follow our pup up® journey @furfresh