Grass-Fed Beef Bone Broth Concentrate
100% Human Grade Whole Foods
Australian Made + Sourced
Scientifically formulated. Naturally potent.
Pawfect as a functional meal topper
This jar of golden deliciousness has to be seen to be believed! Our Grass-fed Beef Bone Broth Liquid Concentrate made with 100% human grade beef leg (marrow) bones. This Beef Bone Broth for dogs and cats contains the highest level of collagen in any food.

Our beef bone broth for dogs and cats is made from 100% human grade Australian and New Zealand grass-fed beef leg bones that are slow-cooked at low temperatures for over 20 hours. This gentle process maintains the highest ingredient integrity and extracts the most nutrient-dense marrow. The result is a thick, gelatin that you simply mix with water and serve.

Try our beef bone broth concentrate and you'll see immediate health benefits for your dog.

Not a powder! Unlike some others on the market, our beef bone broth concentrate is never denatured or reconstituted
Naturally preserved with evaporated sea salt - no refrigeration needed until the jar is opened
100% Human Grade ingredients
Australian & NZ sourced beef bones
Serve warm, cold or freeze (like in our

 

Pupsicools)!
Ideal for older dogs and cats, dogs recovering from illness or dogs who need a little encouragement to eat
Excellent addition to a cat's drinking water to encourage more water consumption for UTI management and prevention
Helps to build young bones and muscles in puppies
The pawfect way to rehydrate freeze dried foods like our deliciously nutritious freeze dried dog food range

It's pawfectly normal for our broth to look milky, or opaque white when mixed with water. Why? A couple of reasons - firstly, we only use the beef leg bones, cut in half to expose the marrow which results in a highly gelatinous, collagen-laden broth. Secondly, unlike other broths that skim off the fats, we blend the fat into our broth because high quality fat from grass-fed beef bones is a great building block for muscle cells and an excellent source of energy.

The grass-fed beef bone broth gelatin, contains collagen protein and over 19 amino acids that are vital to the health of your dog and cat.
Better joint & bone health

Ideal for dogs + cats of all ages

Reduction in joint pain & inflammation

Improved digestion and gut health

Nutrition for the building of bones, joints and muscle

Healthier fur, skin and teeth
100% Human Grade Ingredients: Australian Grass-fed beef leg bones, evaporated sea salt, water. And that's all!

Feeding Guide

To rehydrate dry food:
Mix with warm (hot, but not boiling) water, stir to dissolve. Please note that it's entirely normal for the broth to look cloudy/milky/opaque white because it contains all the good fats and collagen.

Dosage

| | |
| --- | --- |
| Cats + Dogs <5kg: 1/4 teaspoon with 150ml warm water | Dogs + Cats 5-15kg: mix 1/3-1/2 tsp with 200ml warm water |
| Dogs 15-25kg: Mix 3/4 tsp with 250ml warm water | Dogs 25kg+:Mix 1 tsp with 500ml warm water |

 

Refrigerate after opening. Best used within 12 months of opening. 

A note on sodium - there is 39.8mg of sodium/1g in the broth. According to NRC guidelines, an adult dog has a minimum daily requirement of 13.3mg of sodium per kilo of body weight per day. Whilst we'd always advise checking the amount of sodium in their daily food and other treats, for healthy dogs fed a fresh food diet, our broth is an excellent and safe addition to a dog's diet.
View full details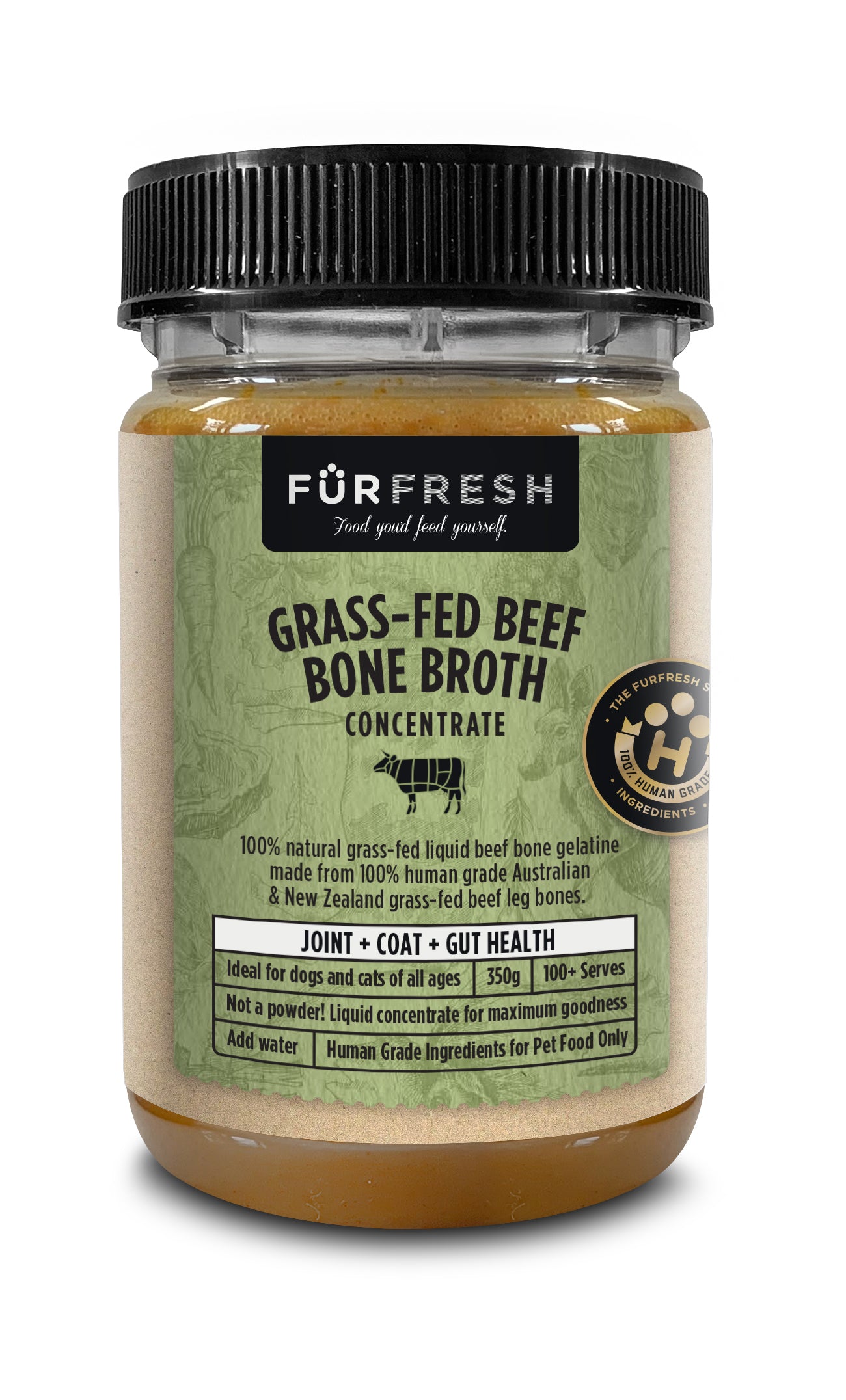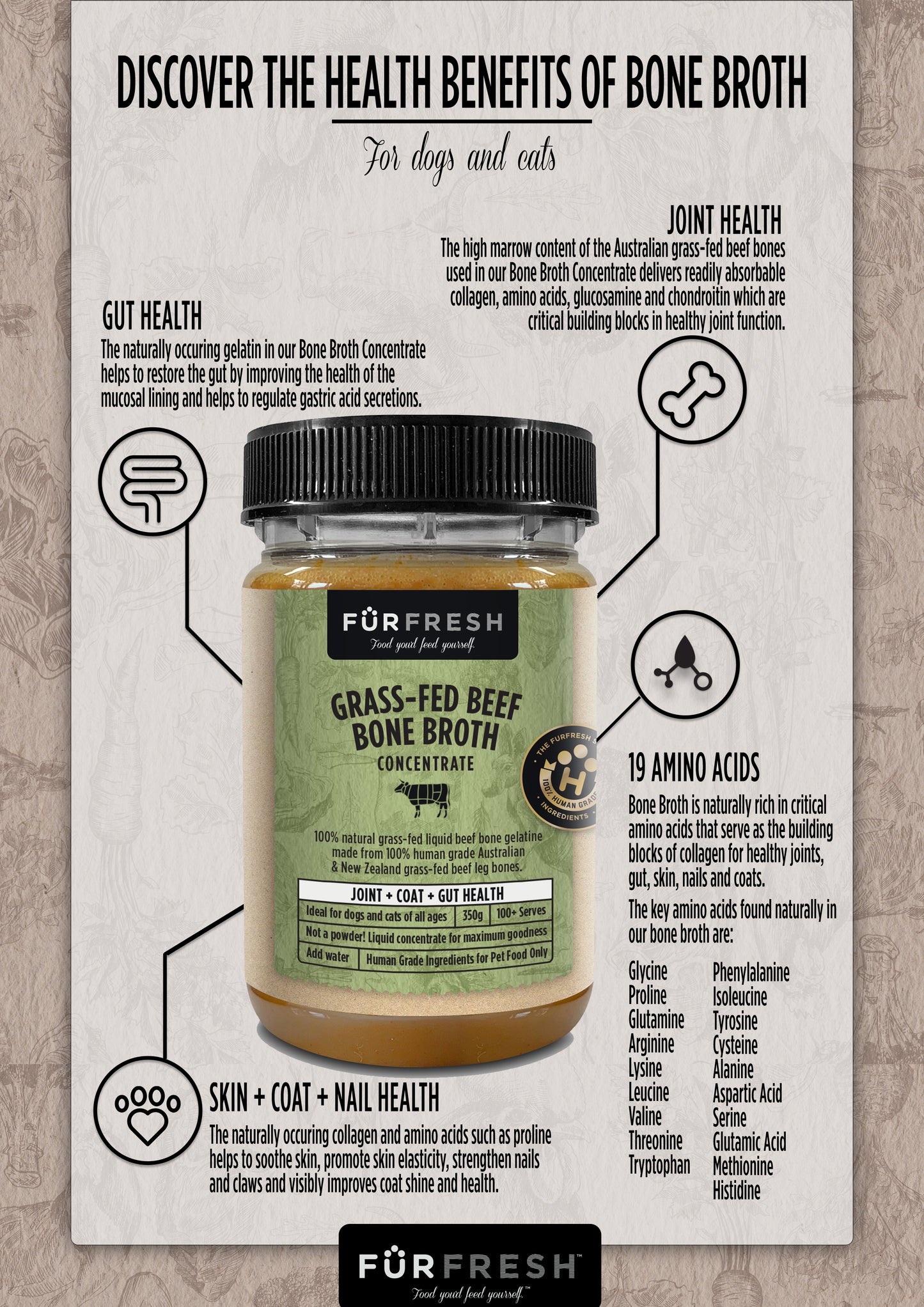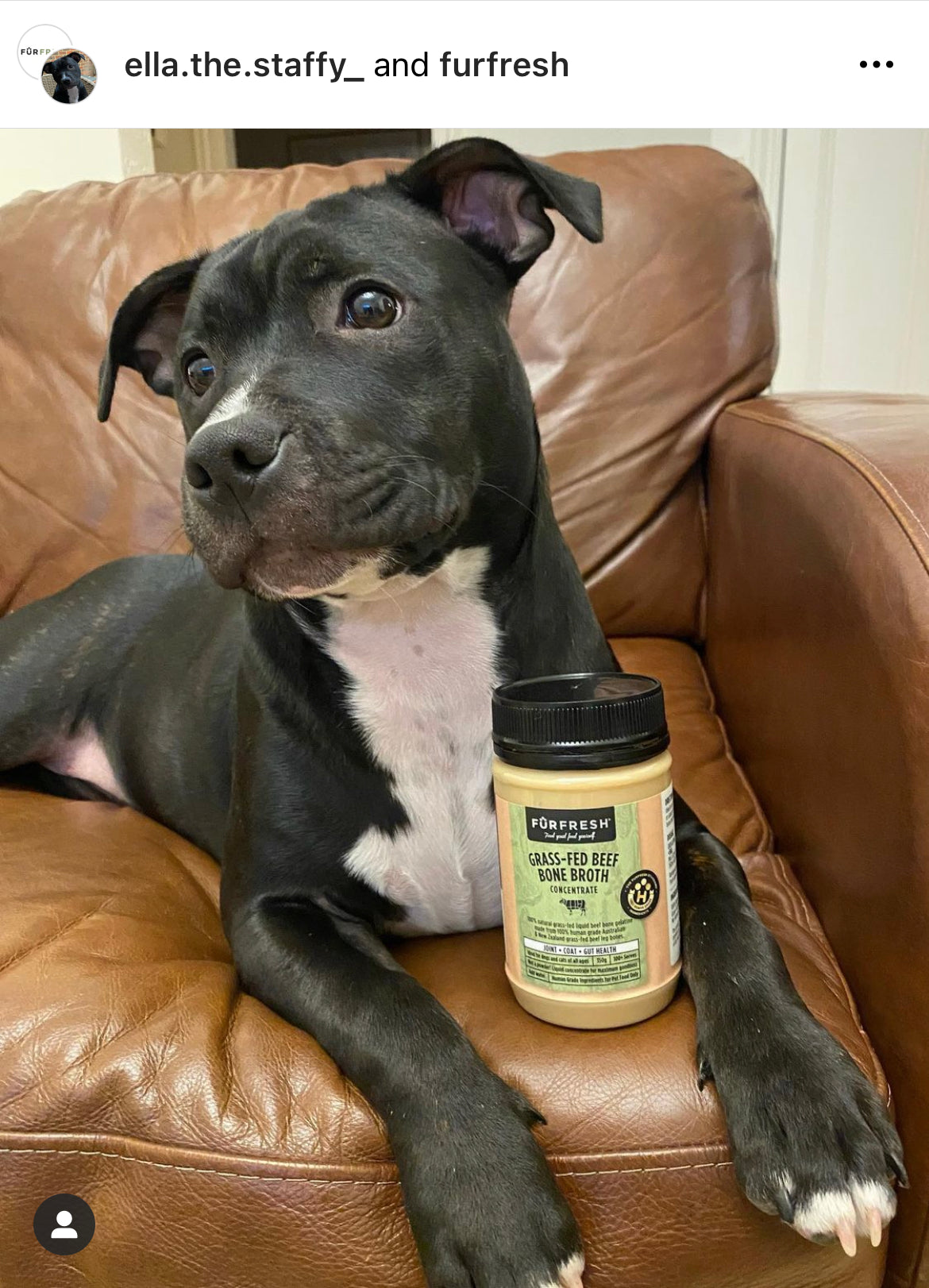 How we're freshening up the pet food industry
How we're freshening up the pet food industry
100% HUMAN GRADE INGREDIENTS
Not animal feed grade.
NO MYSTERY MEAT
No meat meals, animal by-products or other mysterious 'meat-like' ingredients.
NO PRESERVATIVES
No artificial colours, flavours or preservatives.
NO FILLERS
No grains, corn, wheat, soy, cereals or other sneaky tricks to keep costs down.
INGREDIENTS MINIMALLY PROCESSED
Simple, wholesome ingredients minimally processed.
TRANSPARENT LABELLING
We include the full ingredient list on all our packs.
Refreshingly Different Dog Food
Since 2015, we've been on a mission to deliver the fureshest dog food in Australia, and if we may be so bold, the world!
We are obsessive about using only the highest quality, freshest and healthiest ingredients for our 100% human grade dog food.
From Our Purrfect Pawrents